Liberal Outrage After Abortion Pill Blocked Nationwide By Order From Texas Judge
In a decision which the liberal media called an "unprecedented" decision, late on Friday a federal judge in Texas issued an order that will shut down the prescription and distribution of mifepristone in seven days, one of two drugs used for medication abortions that has been on the market in the U.S. for more than two decades. However, it wasn't immediately clear if it was the decision that was unprecedented, or that a member of the judicial branch did something that wasn't immediately prompted by generous funding from George Soros.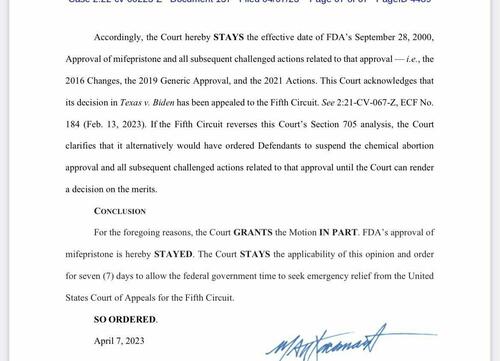 The preliminary injunction – which suspends the US government's decades-old approval of the key drug used in medication abortion – was issued by US District Judge Matthew Kacsmaryk, an appointee of President Donald Trump, could soon end the sale and distribution of mifepristone, used as part of a two-pill regimen to terminate a pregnancy within the first 10 weeks, while a lawsuit seeking a more permanent ban on the drug proceeds.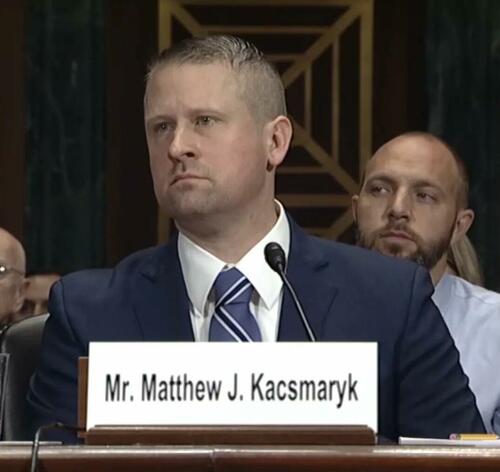 The FDA can appeal the decision and Kacsmaryk's order will not go into effect for seven days, giving the Biden administration time to appeal his decision to the New Orleans-based 5th US Circuit Court of Appeals, which is considered one of the most conservative courts in the country.
And confirming that the US judicial system is now terminally broken and is no longer blind but divided into left and right "justice", Kacsmaryk's ruling was almost immediately followed on Friday by a decision by a federal judge in Washington state – US District Judge Thomas Rice, an appointee of President Barack Obama – who granted a request by several Democratic-leaning states for an order affirming FDA approval of mifepristone and blocking the government from further restricting its distribution.
Religious groups and anti-abortion advocates targeted the FDA – whose credibility was already torn to shreds after the whole "covid thing" – in a November lawsuit claiming the agency fast-tracked approval of mifepristone in 2000 without sufficient scientific evidence, something the agency certainly did with various covid "vaccines" meant not to protect the population but to enrich a handful of pharma execs.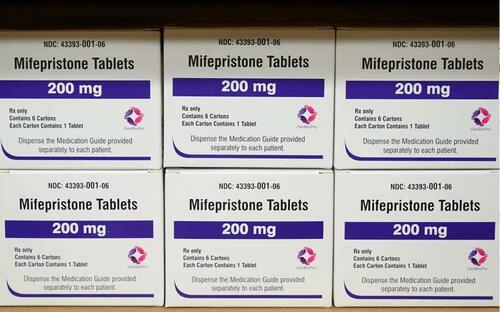 Medical groups have defended the medication, arguing that studies show it is safer than Tylenol and Viagra and sends fewer people to the emergency room than those drugs. Abortion rights supporters have decried the lawsuit as politically motivated and not based in science.
Kacsmaryk, who sits in Amarillo, Texas, said it was clear that the FDA overstepped its authority when it first approved mifepristone for use and suggested that the agency "faced significant political pressure" to advance the drug.
"The Court does not second-guess FDA's decision-making lightly," Kacsmaryk said in his decision. "But here, FDA acquiesced on its legitimate safety concerns — in violation of its statutory duty — based on plainly unsound reasoning and studies that did not support its conclusions."
The judge said the FDA's stance had likely lead to death and injury among women taking the drug. "Whatever the numbers are, they likely would be considerably lower had FDA not acquiesced to the pressure to increase access to chemical abortion at the expense of women's safety," Kacsmaryk wrote.
If the ruling is not blocked by the conservative 5th Circuit, women seeking to end pregnancies will be left with two options: surgical abortion or a single pill called misoprostol, which is less effective when not used in combination with mifepristone. The latest data shows that 98% of medication abortions that occur in the US use the two-pill method, according to the Guttmacher Institute.
The high-profile Amarillo case has drawn focus from advocates on both sides of the issue, as well as health professionals and medical associations who have been bracing for a ruling on the temporary order for weeks. Dozens of states and advocacy organizations have filed briefs with the court, arguing for or against the order.
As Bloomberg notes, the abortion pill ruling isn't Kacsmaryk's final word on the case, with many court filings and a possible trial to come. But the injunction reflects his judgment that the plaintiffs are likely to succeed on the merits, among other factors.
Anti-abortion groups expected Kacsmaryk to be favorable to their case. Lawyers for the conservative religious-rights groups suing FDA chose to sue in Amarillo, where they were all but assured to get Kacsmaryk, who is assigned all civil and criminal cases. In December, Kacsmaryk tossed out a federal rule that aimed to expand teen access to birth control. In November, he rejected a federal policy that stopped doctors from discriminating against people based on their sexual orientation or gender identity.
The conservative group behind the lawsuit argues that the agency didn't follow the appropriate protocol when it first authorized the use of mifepristone in 2000 and failed to study the safety of the drugs as required, putting "politics over science."
FDA officials have refuted that characterization in public statements and court filings, arguing that the agency followed procedure when approving the medication and "extensively reviewed" the scientific evidence at hand to determine its safety and efficacy.
Mifepristone was first approved in 2000 for use through the first seven weeks of pregnancy. In 2016, the FDA extended that window to 10 weeks. It is the first pill used in the two-drug regimen most used to terminate a pregnancy and blocks a hormone called progesterone that is needed to support a pregnancy. It is followed by misoprostol, which prompts contractions that expel the contents of the uterus.
Kacsmaryk's decision comes as the federal government has taken steps to loosen restrictions on abortion pills, allowing authorized pharmacies to dispense the pills instead of limiting their distribution to doctor's offices. But Republican leaders of states with abortion restrictions have push backed against the new regulations, filing lawsuits and drafting letters to major drugstore chains to ensure the drugs cannot be dispensed at stores in their states or mailed to their residents.
A group of 21 Republican attorneys general urged Kacsmaryk to rescind FDA approval of the abortion pill prior to his decision, writing in a court filing that the agency under President Joe Biden has sought to establish a "mail-order abortion regime" that bypasses state limitations on the procedure.
"The FDA and the administration as a whole have no intention to respect the Constitution," they wrote.
Outcry against the order was immediate with various leftist politicians and organizations vowing to fight the ruling.
Today's ruling is another massive step towards Republicans' goal of a nationwide abortion ban and could throw our country into chaos.

Rightwing activists sought out an extremist judge who is vehement in his desire to take women's rights away. pic.twitter.com/uI2S0SVs6q

— Chuck Schumer (@SenSchumer) April 7, 2023
Today, an extremist Republican-appointed judge recklessly ruled to block nationwide access to safe and effective abortion medication that has been on the market for decades.

Republicans will never rest in their cruel, tyrannical quest to disrespect a woman's right to choose.

— Nancy Pelosi (@SpeakerPelosi) April 8, 2023
BREAKING: ADAMS ADMINISTRATION VOWS TO FIGHT FEDERAL COURT RULING POTENTIALLY BANNING MEDICATION ABORTION DRUG NATIONWIDE.

Full statement: pic.twitter.com/sKTVfn6YBR

— City of New York (@nycgov) April 8, 2023
The fact 23 GOP AGs joined suit to ban mifepristone nationwide, not just in their borders, shows again that red states are unlikely to be satisfied restricting #abortion for their own residents, but seek to impose their rules on blue states too. Same on other rights rollbacks https://t.co/YUDGleIq4c

— Ronald Brownstein (@RonBrownstein) April 7, 2023

And, as expected, a few hours after the Texas judge order, the DOJ has filed an appeal of Kacsmaryk's ruling, saying it will also seek a stay.
UPDATE: DOJ just filed an appeal of TX fed judge's ruling and AG Garland says they will seek a stay as well. https://t.co/2EmgdPpWGo

— Josh Gerstein (@joshgerstein) April 8, 2023
Tyler Durden
Fri, 04/07/2023 – 21:10