10,000 Army Soldiers Slipped Into Obesity During Pandemic
At least 10,000 locked-down, stressed-out active duty army soldiers slipped into obesity during the pandemic, according to new research, which looked at weight trends among service members between February 2019 and June 2021.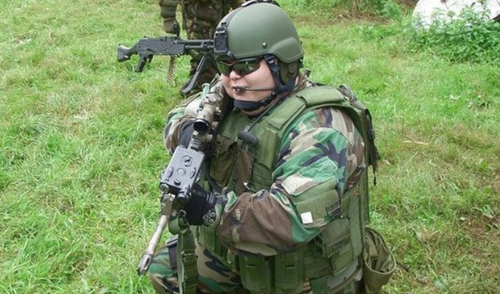 "I could notice it," said U.S. Army Staff Sgt. Daniel Murillo, who stands at 5 ft, 5 inches tall and weighed as much as 192 pounds. "The uniform was tighter."
Early pandemic lockdowns, endless hours on his laptop and heightened stress led Murillo, 27, to reach for cookies and chips in the barracks at Fort Bragg in North Carolina. Gyms were closed, organized exercise was out and Murillo's motivation to work out on his own was low. -AP
Increases were seen in the US Navy and the Marines too, according to the Associated Press.
Out of nearly 200,000 Army soldiers analyzed, almost 27% who were healthy before the pandemic became overweight. Nearly 16% of those who were previously overweight became obese. Prior to the pandemic, around 18% of soldiers were obese. By 2021, it was 23%.
"The Army and the other services need to focus on how to bring the forces back to fitness," according to Tracey Perez Koehlmoos, director of the Center for Health Services Research at the Uniformed Services University in Bethesda, Maryland, who led the research.4
According to federal research, fat people cost the military more than 650,000 workdays each year, while obesity-related healthcare exceeds $1.5 billion each year for current and former service members and their families.
Military leadership has been sounding the alarm over obesity in the US military for over a decade, however the pandemic appears to have exacerbated the problem, according to Marine Corps Brigadier General Stephen Cheney, who co-authored a recent report on the problem, AP reports.
"The numbers have not gotten better," he said during a November webinar held by the American Security Project. "They are just getting worse and worse and worse."
In the last fiscal year, the Army failed to reach its recruiting goal for the first time ever – by a margin of 15,000 recruits, or 25% of the requirement – largely because 75% of those aged 17 to 24 don't qualify for various reasons, including being too fat – the biggest individual disqualifier which affects more than 10% of potential recruits.
"It is devastating. We have a dramatic national security problem," Cheney said.
Extra weight can make it difficult for service members to meet core fitness requirements, which differ depending on the military branch. In the Army, for instance, if soldiers can't pass the Army Combat Fitness Test, a recently updated measure of ability, it could result in probation or end their military careers.

Koehlmoos and her team analyzed medical records for all active duty Army soldiers in the Military Health System Data Repository, a comprehensive archive. They looked at two periods: before the pandemic, from February 2019 to January 2020, and during the crisis, from September 2020 to June 2021. They excluded soldiers without complete records in both periods and those who were pregnant in the year before or during the study. -AP
Murillo has been able to slowly reverse the weight gain, dropping his BMI from nearly 32 to just over 27, which falls within the Defense Department's standard.
One potential solution noted by Dr. Amy Rothberg, an endocrinologist at the University of Michigan who directs a weight-loss program; a new category of effective anti-obesity drugs, including Wegovy (semaglutide). The DoD's health plan, TRICARE, covers such drugs (and funded, but 'didn't influence' the study which led to this report).
Tyler Durden
Wed, 04/05/2023 – 22:00