Bolton Says Grand Jury Indictment Could Serve As 'Rocket Fuel' For Trump's 2024 Campaign
Authored by Frank Fang via The Epoch Times (emphasis ours),
Former National Security Adviser John Bolton said the indictment of former President Donald Trump could serve as "rocket fuel" for his third bid for the White House.
"I'm not worried about Alvin Bragg hurting Donald Trump. I'm worried about Alvin Bragg benefiting Donald Trump," Bolton told CBS' "Face the Nation" on Sunday, referring to the Manhattan district attorney who secured the indictment from a grand jury.
"If Trump is acquitted or he gets the case dismissed because it's not legally sufficient or for whatever reason, that will be rocket fuel, because he can say, 'I told you it was a political prosecution, I told you I was being picked on, and now I've been vindicated,'" Bolton added.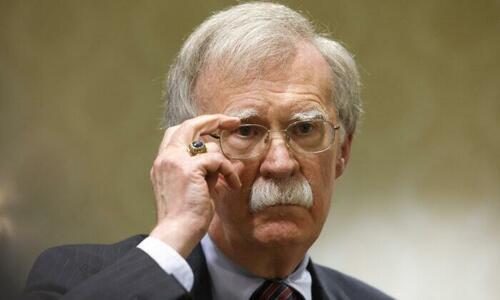 Bolton, who served in the Trump administration from April 2018 until September 2019, argued that if Trump is convicted, it would dampen his presidential bid.
"If he's convicted, however, at some point before the campaign ends, I think that will have a very different impact on people," Bolton said. "If he's convicted of a crime, I think most Americans actually don't want a convicted felon to be their president."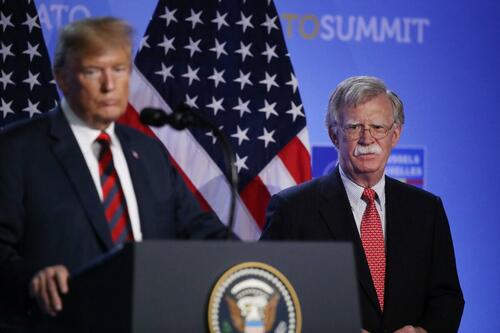 Trump
The specific charges against Trump remain under seal, but they are believed to be related to his involvement in providing $130,000 to adult film actress Stormy Daniels during his 2016 campaign.
On Sunday, Trump took to his Truth Social platform to criticize Bragg and New York Supreme Court Justice Juan Merchan, who is expected to arraign the former president on April 4.
"The Corrupt D.A. has no case. What he does have is a venue where it is IMPOSSIBLE for me to get a Fair Trial (it must be changed!), and a Trump Hating Judge, hand selected by the Soros backed D.A. (he must be changed!)," Trump wrote.
Since the indictment was publicized, Trump has increased his lead in polls over a potential run from Florida Gov. Ron DeSantis in 2024. According to a poll by McLaughlin and Associates, which surveyed 1,000 likely general election voters over two days ending on April 1, Trump defeated DeSantis 51 percent to 21 percent, increasing his lead from January when the former president was at 43 percent and the governor at 31 percent.
Forty-seven percent said Trump would not get a fair trial in Manhattan, while 37 percent said he would, according to the poll.
Bolton, who said he is "still considering" a White House run in 2024, lamented that many Republicans have continued to support Trump.
"I have to say, watching the response to the indictment has not been encouraging for the future of the party," Bolton said. "Trump is a cancer on the Republican Party. We need his supporters. That's absolutely true. Most of them have correct values."
"I think what Republicans need to do to save the party and, frankly, to save the country, is they can be as concerned about poor Donald Trump being mistreated by this prosecutor as they want," Bolton added. "But … the reward, the cure for that mistreatment is not to make Donald Trump the Republican presidential nominee. Those are two completely different subjects."
Support
Many Republican lawmakers have criticized the case as politically motivated and expressed support for the former president.
"Alvin Bragg's decision to indict him is blatant election interference and a direct assault on the tens of millions of Americans who support him," Sen. J.D. Vance (R-Ohio) said in a statement. "The American people will see this for exactly what it is: a grave miscarriage of justice."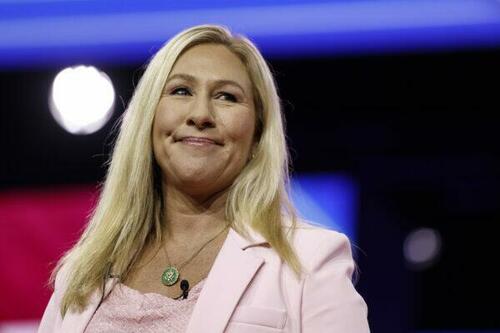 Rep. Marjorie Taylor Greene (R-Ga.) has announced that she will join the New York Young Republican Club for a "peaceful protest of Alvin Bragg's heinous attack" on Trump at noon on April 4.
"Protesting is a constitutional right and I am going to NY on Tuesday to protest this unprecedented abuse of our justice system and election interference," Greene wrote on Twitter.
"I also reject any attempt and anyone who dresses in MAGA but incites violence or commits violence while pretending to be one of us," the congresswoman added. "You are not one of us, you are one of them.
"We will not live in fear and we will lawfully stand against tyranny and corruption while we show our support for President Trump."
On Sunday, Trump announced on Truth Social that he will leave Florida on Monday and arrive in New York later the same day.
"I will be leaving Mar-a-Lago on Monday at 12 noon, heading to Trump Tower in New York. On Tuesday morning I will be going to, believe it or not, the Courthouse. America was not supposed to be this way!" Trump wrote.
Trump will then deliver a speech at Mar-a-Lago at 8:15 p.m. on Tuesday, after returning from New York.
Tyler Durden
Mon, 04/03/2023 – 21:40