Freeport LNG Returns To Full Power
By Tsvetana Paraskova of OilPrice.com,
The Freeport LNG export facility in Texas is receiving natural gas from pipelines at full capacity, suggesting that the liquefaction operations are back to full power, Reuters reported on Thursday, citing data from data provider Refinitiv.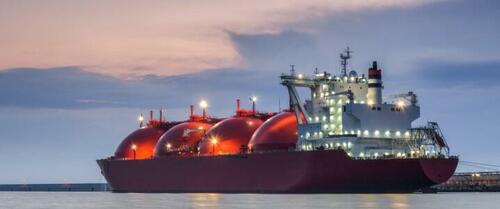 The Freeport LNG export facility in Texas was shut down in June last year when a fire broke out and damaged the plant.
Two of the three trains at Freeport LNG have resumed full commercial operations in recent weeks after receiving regulatory approval in February.  
The third and final train at the Freeport LNG facility received regulatory approvals from the Federal Energy Regulatory Commission (FERC) and the Pipeline and Hazardous Materials Safety Administration (PHMSA) in early March.
By then, the other two trains had returned to full commercial operation, reaching production levels in excess of 1.5 billion cubic feet per day (Bcf/d), Freeport LNG, the company operating the export facility, said early this month.
At the end of this month, data on natural gas flows suggest that Freeport LNG is back to full operations.
According to Refinitiv data, quoted by Reuters, natural gas flows from pipelines to Freeport LNG were on track to rise to 2.1 Bcf/d on Thursday, up from 1.8 Bcf/d on Wednesday. That's as much natural gas as all three trains at Freeport can process into LNG.
Pipeline gas deliveries to US liquefied natural gas export plants hit an all-time high this week, after the Freeport facility ramped-up service.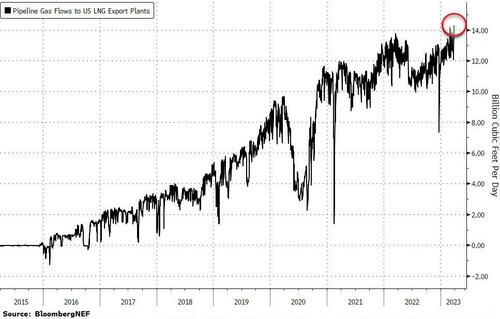 Until it was forced to shut down due to the fire in June, Freeport, responsible for some 20% of total LNG exports from the United States and generating $35 billion in revenue during the first nine months of 2022, served Europe well as the continent looked to squelch a growing energy crisis this winter.
The return of Freeport LNG is set to further ease concerns about LNG supply in Europe, which has managed its gas supply and demand well this winter, mostly due to long periods of mild weather and lower consumption because of demand destruction in the industry and energy savings from households.  
Tyler Durden
Thu, 03/30/2023 – 21:40