Finland Clears Last Hurdle, Will Become The 31st Member Of NATO
Late Thursday night (local time), Turkey's parliament approved Finland's NATO application, which puts the Nordic country on the verge of formal membership in the Western military alliance as the 31st nation. This comes after on Monday Hungarian parliament ratified Finland's for NATO membership.
The unanimous Turkish vote was the last hurdle in the process, after for months both Ankara and Budapest stalled the application – but in the case of Sweden it will be left behind, this despite the Finland-Sweden bids being initially launched as a package deal. Turkey's relations with Sweden continue to be at a low-point, suggesting its application will not move forward for a Turkish vote anytime soon.
Finnish President Sauli Niinisto hailed the news out of Turkey, saying his country is "now ready to join NATO." He added: "All 30 NATO members have now ratified Finland's membership. I want to thank every one of them for their trust and support. Finland will be a strong and capable ally, committed to the security of the Alliance." NATO Secretary Jens Stoltenberg also issued a statement of congratulations on Twitter…
I welcome the vote of the Grand National Assembly of #Türkiye to complete the ratification of #Finland's accession. This will make the whole #NATO family stronger & safer.

— Jens Stoltenberg (@jensstoltenberg) March 30, 2023
Earlier this month, the Kremlin weighed in on Finland being fast-tracked for entry, with spokesman Dmitry Peskov saying, "We have many times expressed regret over Finland and Sweden's move toward membership and said many times that Russia does not pose a threat to these countries."
"We do not have any dispute with these countries… They have never posed any threat to us and, logically, we did not threaten them," Peskov added.
Finland meanwhile is building a 200km fence along its border with Russia to boost security, also after reporting that Russian men fled into Sweden by the droves in order to escape conscription. The fence will reportedly be 10 feet high and topped with barbed wire.
Sweden's membership bid is expected to continue to stall, after deteriorating relations with Turkey in the wake of the Quran-burning incident by a far-right activist. Turkey has also demanded Swedish authorities crackdown on Kurdish political groups and operatives while alleging that Stockholm has hosted "terrorists" on its soil. But no matter what limited steps Sweden has taken thus far, none of its has satisfied Turkish leadership.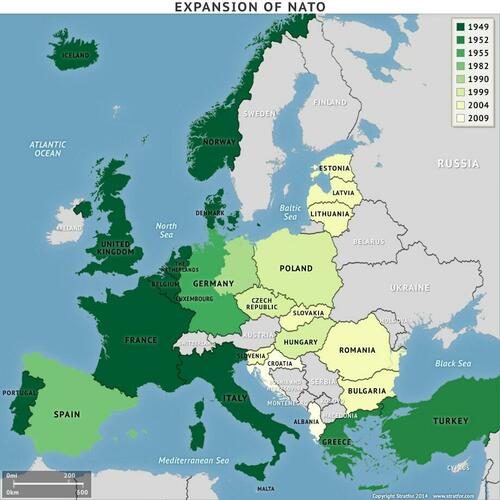 Hungary too is expected to continue also blocking Sweden's application for the time being. "Hungary is holding up Sweden's admission to NATO because of grievances over criticism by Stockholm of Prime Minister Viktor Orban's policies, the Hungarian government spokesman said on Wednesday," according to Reuters.
Tyler Durden
Thu, 03/30/2023 – 21:20