Defendant Moves To Dismiss Jan. 6 Case Based On Newly Disclosed Footage, FBI Testimony
Authored by Zachary Stieber via The Epoch Times (emphasis ours),
A defendant in the Proud Boys trial over Jan. 6, 2021, charges moved March 9 to dismiss the case, after some footage from the day of the breach was shown for the first time.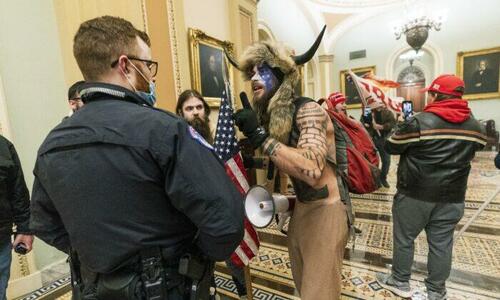 Dominic Pezzola is one of the Proud Boys members on trial for obstruction of an official proceeding and other charges. The newly disclosed footage, shown on Fox News this week, "is plainly exculpatory," Pezzola's lawyers said in the new motion.
"It establishes that the Senate chamber was never violently breached, and—in fact—was treated respectfully by January 6 protestors," they said.
Among the clips Fox's Tucker Carlson broadcast were moments where Jacob Chansley, another defendant who is serving a jail sentence after pleading guilty, was walking around accompanied by police officers. The officers did not stop Chansley and even tried opening doors for him. Chansley eventually made it into the Senate chamber, where he and others later knelt and prayed. Chansley, during the prayer, gave thanks to the officers for "letting us into the building."
Pezzola also entered the Capitol, and prosecutors have argued that he and others being inside forced Congress, which was certifying electoral votes from the 2020 election, to go into recess.
The new footage, though, shows that members "could have continued proceedings," Pezzola's attorneys said. "It was not Pezzola or codefendants who caused the Congress to recess. Congress interrupted its own proceedings."
The lawyers are asking U.S. District Judge Timothy Kelly, a Trump appointee overseeing the case, to dismiss it. If Kelly rejects that request, he is asked in the motion to declare a mistrial.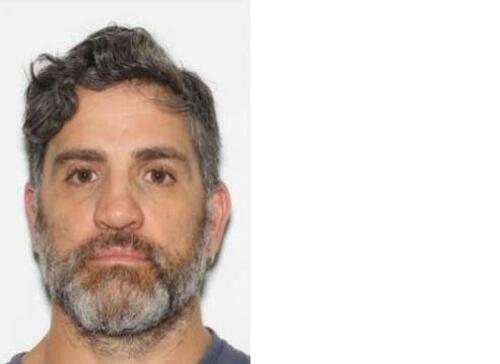 Brady Violations
Prosecutors must provide defendants with evidence that can be exculpatory, or help defendants prove their innocence. The rule was crystallized in Brady v. Maryland, a 1963 Supreme Court decision. "Suppression by the prosecution of evidence favorable to an accused who has requested it violates due process where the evidence is material either to guilt or to punishment, irrespective of the good faith or bad faith of the prosecution," the decision states.
Zachary Rehl, another Proud Boys defendant, requested all information regarding Congress going into recess on Jan. 6 as early as late 2021.
"While Brady obligations do not extend to the entirety of the government, they do include investigative agencies or agencies closely related who knew or should have known that information would be material to a prosecution arising from their direct involvement. Here the U.S. Capitol Police are directly related and fully aware of the events of January 6, 2021," lawyers for the defendants said.
They cited previous court decisions, including one that found a prosecutor "has a duty to learn of any favorable evidence known to the others acting on the government's behalf in the case, including the police."
"We will respond through the court," a spokesperson for the U.S. Attorney's Office for the District of Columbia told The Epoch Times via email.
The U.S. Capitol Police did not return a request for comment.
Albert Watkins, who represented Chansley, said on Fox on Wednesday night that the footage the outlet aired this week had not been provided to him.
"The government knew that Jake had walked around with all of these police officers. They had that video footage. I didn't get it. It wasn't disclosed to me. It wasn't provided to me," Watkins said. "They had a duty, an absolute duty, with zero discretion to provide it to me so I could share it with my client."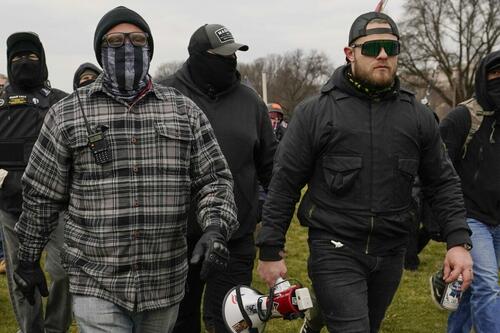 Justice Requires Dismissal: Motion
Another development supports a dismissal, according to the new motion.
FBI special agent Nicole Miller is being accused of hiding a tab in a spreadsheet that showed some of her emails.
Miller was testifying on March 8 when Nick Smith, a lawyer representing Proud Boys member Ethan Nordean, revealed the secret tab, leaving over one thousand hidden Excel rows of messages, Nordean's attorneys said in a separate filing.
Miller said in one email that "my boss assigned me 338 items of evidence i have to destroy" and in another that colleagues should go into a confidential human source report and "edit out that I was present," according to the filing.
The hidden emails featured Miller "admitted fabricating evidence and following orders to destroy hundreds of items of evidence," Pezzola's lawyers said, adding, "If justice means anything, it requires this case to be dismissed."
The FBI did not respond to a request for comment.
Erik Kenerson, an assistant U.S. attorney prosecuting the case, said in court Wednesday that even if there were missing messages, the defense could have asked the government to produce them. He said that prosecutors decide which messages to provide to the defense, so it was not appropriate to imply the agent hid them.
Tyler Durden
Fri, 03/10/2023 – 21:40