White House Rules Out Designating Mexican Cartels As Foreign Terrorist Organizations
Authored by Jack Phillips via The Epoch Times (emphasis ours),
The Biden administration on Wednesday ruled out designating Mexican drug cartels as foreign terrorist organizations following the kidnapping of four Americans that led to two deaths near the U.S.-Mexico border.
"Designating these cartels as [foreign terrorist organizations] would not grant us any additional authorities that we don't really have at this time," White House press secretary Karine Jean-Pierre said in a news briefing with reporters. "The United States has powerful sanctions authorities specifically designated to combat narcotics trafficking organizations and the individuals and entities that enable them. So, we have not been afraid to use them."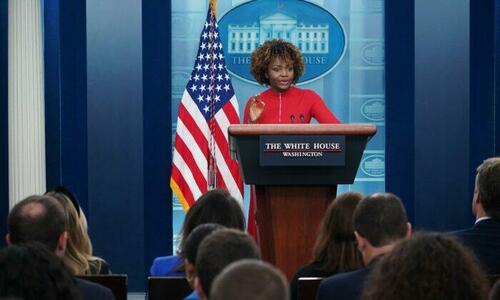 The White House is in touch with the families of American citizens who were kidnapped or killed in Mexico in a high-profile international incident that drew the response of the FBI and top Mexican law enforcement, said Jean-Pierre.
In a Wednesday briefing, Jean-Pierre said the administration has spoken with the families of the victims but did not offer many details. It's not clear if President Joe Biden personally spoke with the families.
"We will do everything in our power to identify, find, and hold accountable the individuals responsible for this attack, and we continue to work in coordination with the Mexican government," she said. The U.S. Treasury Department, she added, has sanctioned Mexican firms and individuals in connection with the drug trade and cartels in recent months.
In October 2022 and last month, the agency sanctioned members of the powerful Sinaloa cartel who are allegedly part of the organization's fentanyl and methamphetamine trade. The agency last week targeted Mexican companies linked to the Jalisco New Generation Cartel, known as CJNG, with fresh sanctions, according to a news release.
CJNG in some areas has "become heavily engaged in timeshare fraud, which often targets U.S. citizens," the department said. "This crime, which can defraud victims of their life savings, results in another significant revenue stream for the cartel and strengthens its overall criminal enterprise. Today's action exposes this CJNG scheme and also serves as a warning to potential victims, many of whom are elderly."
Jean-Pierre's response about the Biden administration's strategies targeting cartels came in the wake of a violent incident that occurred in Matamoros, Mexico, which is located just south of Brownsville, Texas. Four Americans were kidnapped and two of them were killed after they crossed the border for reported medical treatment, according to U.S. and Mexican authorities.
Read more here…
Tyler Durden
Thu, 03/09/2023 – 19:40