Suspected Poison Gas Attacks On Iranian Girls' Schools Have Made Hundreds Sick
A mysterious spate of mass illnesses across various parts of Iran only impacting groups of girls is beginning to cause panic and alarm, ironically also at a moment of continuing anti-government protests focusing on women taking off the veil. 
Girls in up to 15 cities have been affected, Iranian authorities have said, in what are suspected to be mass poisonings. There's currently speculation that an unknown entity, possibly hardline Islamists, may be throwing some type of poisonous gas mixture into schools and school yards, causing dozens of girls at a time to fall ill. The bizarre incidents began being reported back in November.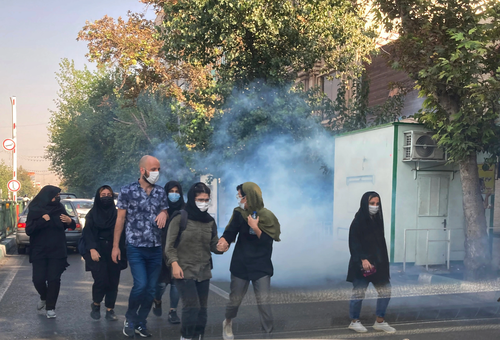 Al Jazeera reports based on the latest statements from Iranian lawmakers that "Similar poisonings have since happened in several other schools in Qom, Tehran, the city of Borujerd in the western province of Lorestan and the northwestern city of Ardebi." And further, "Scores of schoolgirls have been affected in each incident, and some have had to be hospitalized."
However, there have been no confirmed deaths in the incidents where the impacted students reported smelling unusual odors such as "rotten tangerines" or strong chemical smells, or even scents akin to perfumes. There have been rumors of a death resulting from the alleged poison attacks, but this was denied by local authorities. 
School girls have reported feeling headaches and nausea, and there have been some reports of individuals experiencing temporary paralysis of their limbs.
Really disturbing scenes from @1500Tasvir of Isfahan University of Technology students today being taken away on stretchers after another poison attack. Girls are being raped, blinded, imprisoned, killed, and now poisoned in #Iran. pic.twitter.com/Duit9QXOmS

— Jason Brodsky (@JasonMBrodsky) March 1, 2023
There's growing suspicion that these could be attacks by hardline Islamists who condemn the idea of women receiving education, akin to neighboring Afghanistan's recent banning of all girls' schooling under Taliban rule. A top Iranian officials has suggested this is the case: 
But a deputy health minister, Younes Panahi, earlier this week became the first official to confirm that the poisonings have been deliberate. He told state-linked media that "some people" wish to stop girls from going to school. He did not elaborate.

Panahi said the poisonings have been caused by commercially available chemicals and cannot be transmitted because no viruses or bacteria are involved.
In some instances entire classrooms of students and teachers reported smelling odors before mass sicknesses…
One girl noticed a strange smell, and told her teacher she struggled to breathe. The teacher asked the other students if they smelled anything. Then the whole class fell ill.

A string of mysterious, alleged poisonings stokes fear in Iran. My story:https://t.co/KFhYJCW9Bu

— Sune Engel Rasmussen (@SuneEngel) March 2, 2023
As the poison attacks have in the past days been subject of growing international media attention, Washington has weighed in, with US National Security Council spokesperson John Kirby calling the situation "deeply concerning" on Thursday. Investigations at multiple locations are still ongoing.
Tyler Durden
Thu, 03/02/2023 – 20:40