USPS Purchases Ford EV Vans To Electrify Nation's Largest Federal Fleet
The United States Postal Service (USPS) announced plans to purchase thousands of electric delivery vehicles from Ford Motor Company. The move is part of the USPS's efforts to 'greenify' 75% of its fleet over the next five years. 
USPS awarded a contract to purchase 9,250 Ford E-Transit Battery Electric Vehicles (BEVs). The first delivery of the EV mail trucks will begin in December of this year.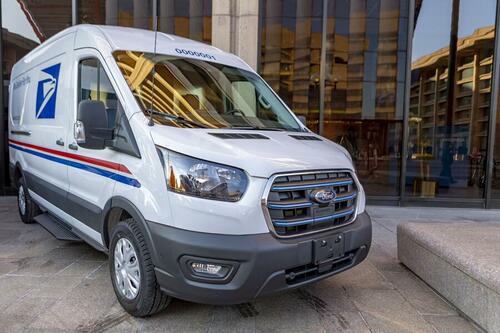 "These domestically sourced vehicles will be 100 percent electric and are part of the 21,000 COTS vehicles included in the Postal Service's vehicle acquisition plan announced in December 2022. The Ford E-Transit BEVs are manufactured in Kansas City, Missouri," USPS wrote in a statement. 
In addition to the 9,250 EV mail trucks, USPS awarded contracts to three suppliers for the purchase of 14,000 charging stations to be installed at mail facilities. 
"We are moving forward with our plans to simultaneously improve our service, reduce our cost, grow our revenue, and improve the working environment for our employees. Electrification of our vehicle fleet is now an important component of these initiatives," Postmaster General Louis DeJoy said in the statement. 
The contract is a significant pivot for USPS, which had announced early last year that it would replace its 30-plus-year-old fleet of mail trucks with gasoline-fueled models made by Oshkosh Corp. That would've disappointed the Biden administration, which has been attempting to electrify the federal government's fleet of vehicles. USPS has the nation's largest federal fleet. 
After facing criticism from some members of Congress and receiving a $3 billion funding boost from the Biden administration's Inflation Reduction Act, the postal service changed its approach in December. The organization then announced a new plan to acquire 66,230 electric delivery vans by 2028, costing $10 billion.
Tyler Durden
Wed, 03/01/2023 – 22:00