"It's Effective": NYC Shops Deploy Crime-Fighting Dogs To Deter Shoplifters
Nationwide retail theft has erupted into a $100 billion crisis. Brick-and-mortar stores have expanded theft-deterrent merchandising strategies to mitigate unprecedented losses for companies. 
In New York City, 34th Street Partnership, a non-profit retail trade group serving Midtown retailers, hired a security firm that provides K-9 units equipped with handlers, the New York Post reported. 
Earlier this month, the K-9 program was launched at the CVS at Eighth Avenue and West 34th Street. The pharmacies have been plagued with thefts. 
"We've had a lot of complaints. A lot of shoplifting occurs in drugstores," said Kevin Ward, the vice president of security for the 34th Street Partnership.
La nueva arma contra hurtos en las tiendas de la calle 34 de Manhattan, donde los robos han aumentado casi 60%. El grupo 34th Street Partnership dice que son muy efectivos y han evitado 27 hurtos en menos de un mes 🐶 pic.twitter.com/PRPLUtQHE4

— Peggy Carranza (@PeggyCarranza) February 24, 2023
"It's effective so far," said Ward. He added, "We've had a couple of people who were known shoplifters who saw the dog and walked out without stealing anything."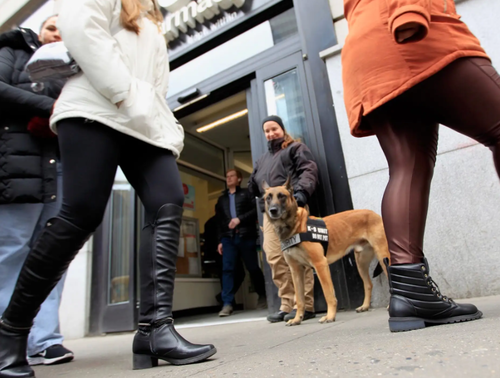 Between Feb. 15-19, K-9 units prevented at least 25 thefts at the CVS stores. Here are some examples of how the K-9s are visible deterrent shields for stores (list provided by NYPost):
On Feb. 15: a homeless man attempted to leave the store with unpaid items in the morning. He dropped the goods and fled after being approached by the security officer and the K-9.
On Feb. 16: Two known serial shoplifters entered the vestibule of the store — but left without entering after seeing the K-9 and guard.
On Feb. 17: A man attempted to leave the store without paying for two boxes of Tums and three bottles of juice that morning. The manager alerted the guard and K-9, and the thief returned the items when approached.
On Feb. 19: A homeless man attempted to steal a carton of orange juice along with a container of fruit salad, but returned the goods after management alerted the K-9 and security, who confronted him.
The canine patrol is a pilot project as desperate retailers in Midtown grapple with out-of-control shoplifting. There were more than 1,000 theft complaints last year versus 2021. 
Tyler Durden
Sat, 02/25/2023 – 21:00