Residents Say They've Broken Out in Rashes After East Palestine Train Derailment
Authored by Jack Phillips via The Epoch Times (emphasis ours),
Locals who live near the train derailment and release of toxic chemicals near East Palestine, Ohio, have complained about various health problems since the incident unfolded earlier this month, including rashes, headaches, and other issues. And they've expressed concerns that these new symptoms may be tied to the chemicals that were burned or released.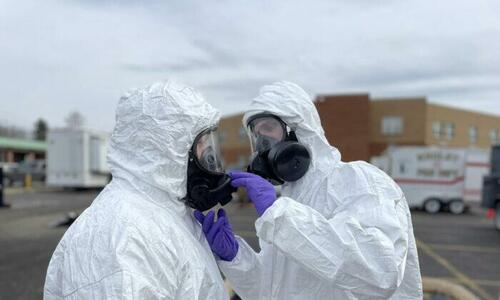 The Feb. 3 derailment triggered officials to initiate a controlled release and burn of various chemicals as they cited concerns that those materials would explode and send out deadly shrapnel. Chemicals carried on the Norfolk Southern-operated train include toxic vinyl chloride gas, which was vented and burned, releasing a large cloud of black smoke that hung over the area for days.
A plume of chemicals from the train derailment was also detected heading down the Ohio River, although some Ohio environmental officials assert that they may largely be fire retardant substances used to put out the fire. Other chemicals carried on the train include butyl acrylate, ethylene glycol monobutyl ether acetate, and 2-ethylhexyl acrylate, the U.S. Environmental Protection Agency said (pdf).
Residents of East Palestine were told they could return to their homes on Feb. 8. Since then, there have been reports from locals of adverse health events they've suffered amid separate reports of animals, including fish and chickens, dying off.
"When we went back on the 10th, that's when we decided that we couldn't raise our kids here," local Amanda Greathouse told CNN, adding that in the area, there was a smell that "reminded me of hair perming solution."
About 30 minutes after returning home earlier this month, she developed nausea and a rash, Greathouse told the network. Her house is located about a block from the train derailment site.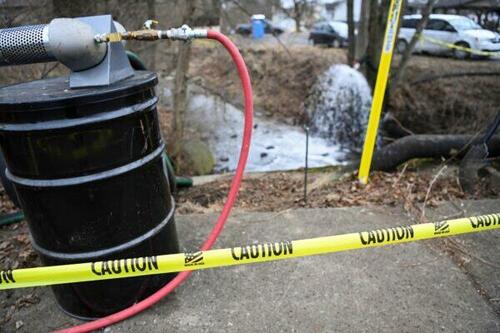 "When we left, I had a rash on my skin on my arm, and my eyes were burning for a few days after that," added Greathouse, who said she has two preschool-age children.
"The chemical smell was so strong that it made me nauseous," Greathouse said. "I just wanted to quickly pick up what I needed and leave. I only took a few pieces of clothes because even the clothes smelled like chemicals, and I'm afraid to put them on my kids."
Read more here…
Tyler Durden
Mon, 02/20/2023 – 21:00