US Gasoline Demand On The Rise Again
By Charles Kennedy of OilPrice.com
Gasoline demand in the United States rose by 1.7% last week, and was also 3.7% higher than the four-week moving average, GasBuddy reported as quoted by Reuters.
"For the first time since June, U.S. gasoline demand was not only up every day over the week ago period but also over the four week average," GasBuddy's head of petroleum analysis, Patrick De Haan, said in a tweet.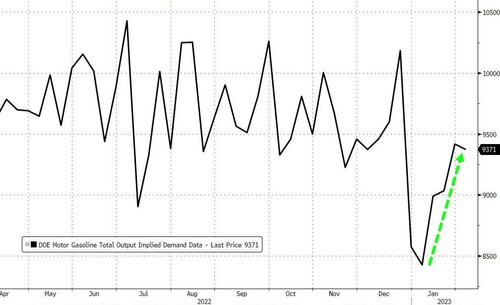 Interestingly, demand seems to be on the rise while prices are on the rise, too.
Still, they were a lot lower than last year's peaks in early summer, with wholesale gasoline futures going up from $2.32 per gallon on February 3 to $2.50 per gallon on February 10.
While demand may increase in the short term, over the longer term there are expectations for a decline. This would be caused by greater fuel efficiency and less car use as more people opt to work from home. Growing EV adoption will also undermine gasoline demand, according to a Financial Times report.
The United States consumed an average of 8.78 million barrels of gasoline last year, which was 6% below the record achieved before the pandemic. Gasoline sold on the U.S. market accounts for 9% of global oil consumption, the report noted.
Meanwhile, the price for gasoline saw its first weekly decline two weeks ago, averaging $3.44 per gallon on February 5th. This was down by 4.4 cents from the previous week but up by 17.5 cents on a month earlier, the report showed.
The increase in demand for gasoline, if sustained, could help alleviate concern about the immediate future of oil demand in the world's biggest consumer as the market processes the growing prospect of a recession.
Although indicator data seems to be contradictory, most commentators from the financial industry appear unanimous in their expectation of an economic slowdown. The question seems to be not if but when a recession will manifest.
Tyler Durden
Mon, 02/13/2023 – 18:35