NYC Suburbs Buck Trend As Open Houses Packed And Offers Over Ask
US housing market pain could be ahead, but some affluent New York suburbs are bucking the trend early this year as open houses are packed. 
Falling mortgage rates might be stoking demand in a suburb about 20 miles north of Manhattan known as Scarsdale. Or rather, it could be the lack of inventory. Whatever is driving the housing market in the wealthy suburbs of New York has led to homes still selling over ask.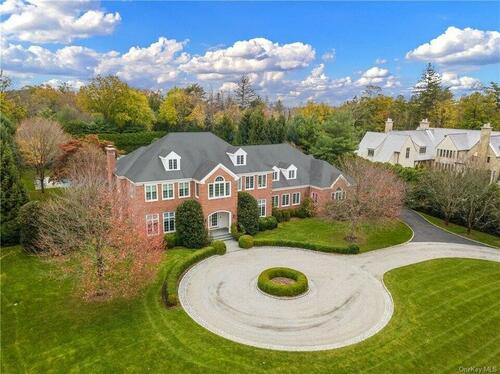 "Demand is very high in all price ranges," Laura Miller, the listing agent with Houlihan Lawrence, told Bloomberg. She said:
"There are tons of buyers and not enough inventory."
Even with the 30-year home loan rate doubling, demand for homes just outside of the city is high. Realtor.com data shows New York's Westchester County, which includes Scarsdale and Bronxville, and New Jersey's suburbs in Essex and Bergen counties, are still seeing homes sold for more than 10% over the listing price. 
With the spring real estate market underway, there will be a lot of housing markets nationwide that will experience unevenness: 
"This is going to be a spring season characterized by big differences between markets." 

 "In some places new listings will lead to a line of people out the door and in others, crickets," said Benjamin Keys, a real estate professor at the University of Pennsylvania's Wharton School.
No matter a boom or bust in the economy, a group of buyers still need homes. Many of them are finding out that inventory in the suburbs around NYC is shrinking. Realtor.com data also confirmed this and said Westchester had one of the steepest drops in active listing in the US last month, falling 15% from a year earlier. Fewer homes mean prospective homebuyers are chasing less supply which can spark bidding wars.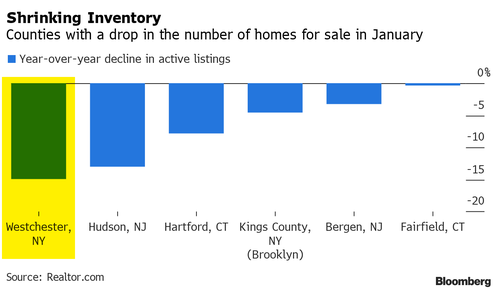 Meanwhile, the rest of the country's housing markets are frozen (besides Florida and a few other states) due to an affordability crisis. The good news is that home prices have yet to spiral lower because of limited inventory. However, some economists are warning about a 10-15% slide in overall home prices over the next couple of years. 
Tyler Durden
Tue, 02/07/2023 – 18:40