Miami Black Leaders Apologize To Gov. DeSantis After Member Called Him Racist
Authored by Jack Phillips via The Epoch Times (emphasis ours),
The Miami-Dade Black Affairs Advisory Board apologized to Florida Gov. Ron DeSantis over the weekend after one of its members described him a racist.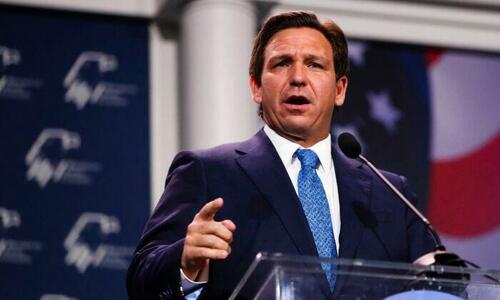 Pierre Rutledge, the head of the Miami-Dade Black Affairs Advisory Board, issued a statement on behalf of the organization and apologized to the Republican governor after a member said last week that DeSantis is a racist.
"We take it to heart when someone uses the term racist," Rutledge said, reported Fox News and the Miami Herald, which reported that he made that comment at a Feb. 3 press conference. "Words matter. And so as chair, I must start by saying we want to pull that back. There's nothing wrong with saying 'we're sorry.' That's not what we intended to say or be depicted by anyone. And that's not the feeling of this board."
Another official, Miramar Mayor Wayne Messam, said that he also "can't call the governor racist. I don't know him personally. I don't know his heart," reported WSVN. However, he claimed that DeSantis' policies "always [seem] to attack black people and people of color," without elaborating.
DeSantis's administration has not responded to a request for comment.
Rutledge, who is also a local school administrator, did not immediately respond to an Epoch Times request for comment. The Miami-Dade Black Affairs Advisory Board also did not respond to a request for comment.
Rutledge's comment came after Miami lawyer Stephen Hunter Johnson said last week that "our governor is racist" during a Miami-Dade Black Affairs Advisory Board meeting about DeSantis having blocked an African-American studies course, according to the Herald. After the comment, the board members unanimously voted to draft a letter to DeSantis to object against his rejection of the course.
During Friday's news conference, Rutledge made the apology while also simultaneously saying that the board released the letter to DeSantis to criticize his decision.
"Politics has no place in determining school curriculum," Rutledge said, according to WSVN. "If we rely on elected officials to tell our children what they can and cannot learn about, that is the epitome of political indoctrination."
Read more here…
Tyler Durden
Tue, 02/07/2023 – 18:20