"Confidential Letters": FTX Demands Politicians Return Millions In SBF Donations
Just when you thought the FTX travesty couldn't get any more bizarre, the now bankrupt company is trying to claw back political donations and other spending that took place at the direction of former CEO Sam Bankman-Fried. 
A press release made its way out mid-day Sunday that FTX's debtors and the company had sent "confidential messages to political figures, political action funds, and other recipients of contributions or other payments that were made by or at the direction of the FTX Debtors, Samuel Bankman-Fried or other officers or principals of the FTX Debtors" requesting the funds back. 
"These recipients are requested to return such funds to the FTX Debtors by February 28, 2023," the release states.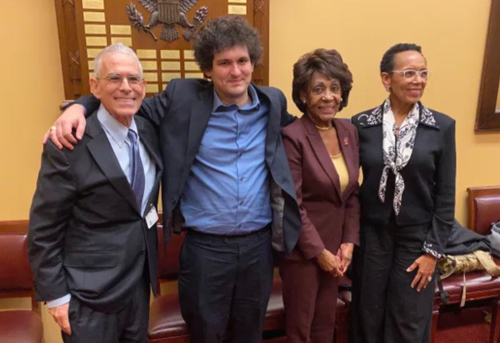 It continues: "The messages follow the December 19, 2022, announcement by the FTX Debtors that they have established arrangements for such recipients to return funds voluntarily by contacting (FTXrepay@ftx.us)."
Then, the release threatens legal action to those who are unwilling to return funds: "To the extent such payments are not returned voluntarily, the FTX Debtors reserve the right to commence actions before the Bankruptcy Court to require the return of such payments, with interest accruing from the date any action is commenced."
"Recipients are cautioned that making a payment or donation to a third party (including a charity) in the amount of any payment received from a FTX Contributor does not prevent the FTX Debtors from seeking recovery from the recipient or any subsequent transferee," the release says. 
We noted back in December that $73 million in political donations were now at risk as a result of the bankruptcy. SBF also donated to Democratic Rep. Ritchie Torres of New York, who last year was one of 8 members of Congress who lobbied against regulating crypto.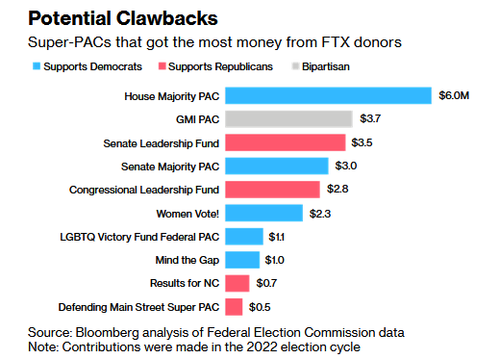 "Nobody ends up looking great in this," said University of Rochester political science professor, David Primo, at the time. 
While there's precedent for forcing political entities to return contributions in cases of fraud, recovery prospects are unclear in FTX's case. Recouping campaign funds as part of the bankruptcy proceedings is a complicated and lengthy process, and the scope of the total funds eligible for clawback depends on myriad federal and state laws. It is also subject to the bankruptcy lawyers' judgment on what money, which may be long spent by the time the FTX trustees try to go after it, is worth the effort.

Bankman-Fried is facing additional scrutiny for recently saying he gave equally to Republicans and Democrats, but funded conservatives through  "dark money" groups that don't identify donors. The claim is almost impossible to verify unless the recipients voluntarily disclose they received money from him. -Bloomberg
One factor noted in the debate over clawbacks is whether the bankruptcy court determines there was fraud or fraudulent intent involved in the collapse of FTX, according to Ilan Nieuchowicz, a litigator for law firm Carlton Fields. If that's the case, nearly all donations tied to FTX could be a recovery target. If not, then only those made within the 90-day period prior to FTX's insolvency, or around $8.1 million, would potentially be subject to recapture.
Meanwhile, $26.6 million of FTX-linked contributions went directly to large super PACs, including those who gave money to House and Senate leadership of both parties (and of course, the proportion isn't mentioned). 
Recall, we reminded readers back in December that SBF was being heralded as "one of the people most responsible" for Biden's 2020 win.
Somebody better flip over Hunter Biden and see how much change falls out of his pockets…
Tyler Durden
Sun, 02/05/2023 – 19:30