Start Of Bankruptcy Wave? Large Firm Filings Surge To 2010 Levels
The US has transitioned from more than a decade of quantitative easing to more recent quantitative tightening. QT will remain until the Federal Reserve is finished squashing inflation. However, such a massive paradigm shift in markets might result in a period of deleveraging among highly levered firms that were able to flourish during the QE era. 
New Bloomberg data shows large companies (at least $50 million of liabilities) filing for bankruptcy topped 20 this month, the highest in any other January dating back to 2010. Back then, 25 filings were seen as the economy was still reeling from the aftermath of the GFC.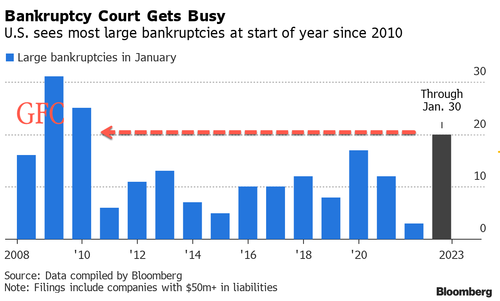 There is no doubt after more than a decade of the Fed unleashing trillions of dollars of credit into the economy via QE, a generation of zombie companies is in the midst of a painful deleveraging event as credit is harder to come by in QT. 
QE has been one of the "biggest distortions came from keeping companies alive on life support that otherwise would have disappeared into insolvency," research firm Porter & Co. wrote on our contributor blog (read: "The Hidden Debt Bubble You Didn't See Coming"). 
This month's surge in large firm bankruptcies is set to continue, according to Damian Schaible, co-chair of the restructuring group at law firm Davis Polk & Wardwell, who spoke with Bloomberg. He said:
"I think we're going to see continued increased filings in 2023.

"From a broader market perspective, it's pretty simple: We have a market filled with companies with historically high leverage — thanks to the easy money policies of the past decade — and a not-insignificant portion of that debt is floating rate."
This year, some of the most notable bankruptcy filings have been festive retailer Party City Holdco Inc, mattress maker Serta Simmons Bedding LLC, and cryptocurrency lender Genesis Global Holdco. 
There could be turmoil in the lowest-rated — CCC-rated credit space and hidden risks if a bankruptcy wave takes off from here. As shown below, distress debt is piling up.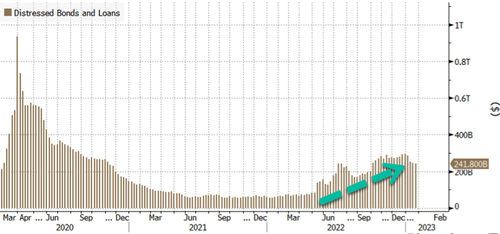 Even though some investors don't believe a hard landing is in the cards this year. The latest surge in large firm bankruptcies is an ominous sign of trouble ahead. 
Tyler Durden
Tue, 01/31/2023 – 21:20