Hedge Funds Push Chinese Holdings Close to Record
By Ye Xie, Bloomberg Markets Live reporter and analyst
Despite the world-beating rally in Chinese assets, positioning data show a clear dichotomy among investors' views on the nation.
While hedge funds have boosted their exposure to Chinese stocks to near an all-time high again, mutual funds – which tend to have a longer-term investment horizon — remain significantly underweight, according to Goldman Sachs. Such a divergence shows that Chinese assets are viewed only as a three-month "trade," rather than a three-year "investment."
China's manufacturing and services survey data Tuesday confirmed that the economy is bouncing back. The International Monetary Fund also raised China's growth forecast this year by 0.8 percentage point to 5.2%, making it one of few major economies that may see growth accelerate this year.
With the economy healing, it's not surprising that foreign investors are scooping up Chinese stocks hand over fist. The inflow into equities via the stock connect in January reached a record $21 billion, already exceeding the influx for the whole year of 2022.
But a closer look under the hood suggests a deep split between different types of investors. Hedge funds, who tend to be nimble, have increased their net exposure to Chinese stocks to 13%, from about 7% late last year, according to data from Goldman Sachs's Prime Services unit. That isn't far away from a peak of 15% in 2020, just before Beijing started cracking down on tech companies.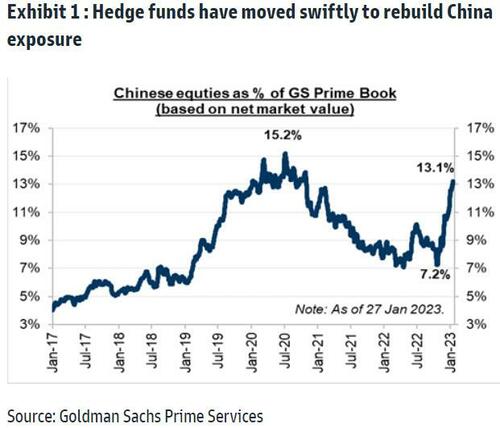 In comparison, while global mutual funds' holding of Chinese stocks has increased to 8% from 6%, they still are  underweight China by 420 basis points relative to their benchmarks, as of December. The current position ranks in the 19th percentile over the past decade, analysts including Sunil Koul wrote in a note.
There's also a divergence between investors in different regions: the further away from China, the more cautious they are.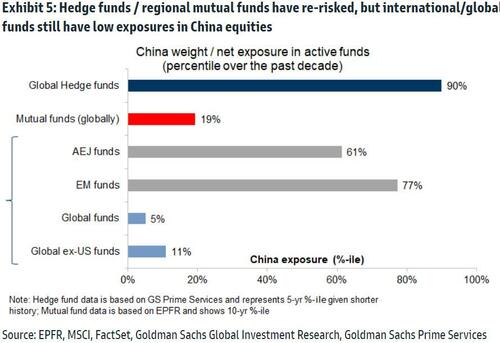 The divergence, perhaps, comes down to cyclical versus structural views. After all, China can only "re-open" once. It's a nice trade that fast money is willing to chase. But as life returns to normal, Beijing needs to grapple with the same long-term problems, including a bloated real estate industry, a shrinking population and increasing geopolitical tensions.
On Tuesday, Bloomberg reported that Ontario Teachers' Pension Plan has halted direct investing in private assets in China. Separately, the Biden administration is considering cutting off Huawei Technologies from all of its American suppliers.
Hedge funds are enjoying the reopening party, for now. For deep-pocketed, long-term investors, though, China remains "uninvestable."
Tyler Durden
Tue, 01/31/2023 – 21:00