From <a href="https://www.zerohedge.com/"Zero Hedge
US Small Business Optimism Outlook Crashes To Record Low, Yield Curve Inverts Most Since 2007
Shortly after German investor confidence collapsed to its weakest since the 2011 debt crisis (as the country faces the growing prospect of a recession and risks mount that it's shut off from Russian energy supplies), US Small Business optimism plummeted more than expected in June with inflation topping the factors driving fear into American entrepreneurs.
Headline optimism among US small-business owners slumped in June to the lowest level since early 2013 (down 3.6 to 89.5, well below 92.5 exp), but a net minus 61% of owners last month said they expect better business conditions over the coming six months, down 7 percentage points from May and the worst result in the survey's 48-year history.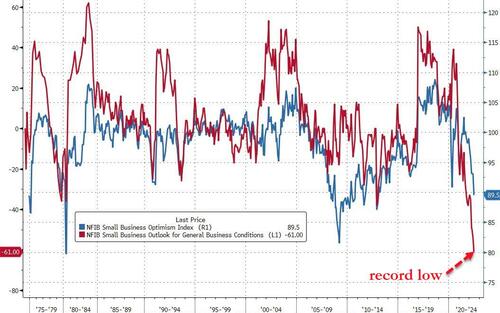 Source: Bloomberg
All 10 sub-components worsened in June…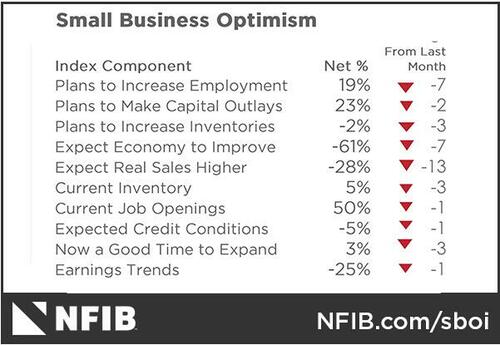 Inflation continues to be a top problem for small businesses with 34% of owners reporting it was their single most important problem in operating their business, an increase of six points from May and the highest level since quarter four in 1980.
"As inflation continues to dominate business decisions, small business owners' expectations for better business conditions have reached a new low," said Bill Dunkelberg, NFIB chief economist.

"On top of the immediate challenges facing small-business owners including inflation and worker shortages, the outlook for economic policy is not encouraging either."
The record low outlook is strongly indicating bad times for the economy to come. In concurrence, those expecting real sales growth is also historically low, expected better credit conditions has deteriorated and only 3% of small business owners think the current period is a good time to expand their business.
The NFIB concludes rather ominously, "these indicators make a very strong case for a decline in economic activity. How long and how severe is now the question. It appears that real GDP growth was negative in the first two quarters of the year, some say that is a recession. But employment has yet to yield to the forces of decline, a good sign…"
We note that the yield curve (2s10s) has collapsed to its most inverted since 2007 this morning…
"However this plays out, small business owners are bracing for challenging times ahead."
Tyler Durden
Tue, 07/12/2022 – 09:40
Read More