From <a href="https://www.zerohedge.com/"Zero Hedge
Wimbledon Set To Announce Ban On Russian And Belarusian Players
Wimbledon will be the first major tennis tournament to ban players from Russia and Belarus due to the invasion of Ukraine, according to The NYTimes, citing a top international tennis official with direct knowledge of the situation.
As Paul Joseph Watson reports, the ban contradicts the statements of WTA chief Steve Simon, who last month asserted that individual athletes shouldn't be punished for the actions of their governments.
"You never know what the future may bring. But I can tell you that we have never banned athletes from participating on our tour as the result of political positions their leadership may take," said Simon.
The decision supersedes an earlier directive by tennis authorities the ITF, WTA and ATP which said that Russian and Belarusian players could continue to appear at tour events, but only as neutrals and without displaying national colors.
The decision was made after top UK tennis authorities and lawmakers held discussions over whether to ban Russian and Belarussian athletes.
On Tuesday, the Lawn Tennis Association was in "complex" talks with Prime Minister Boris Johnson about the issue. 
The Kremlin reacted angrily to the reports deeming it "unacceptable".
"Once again they simply turn athletes into hostages to political prejudice, political intrigues," Kremlin spokesman Dmitry Peskov told reporters.

"This is unacceptable."

"Taking into account that Russia is a very strong tennis country, our athletes are at the top of world rankings, the competition itself will suffer from their removal," he added.
The ban will affect several players, notably Daniil Medvedev, Andrey Rublev, and Anastasia Pavlyuchenkova.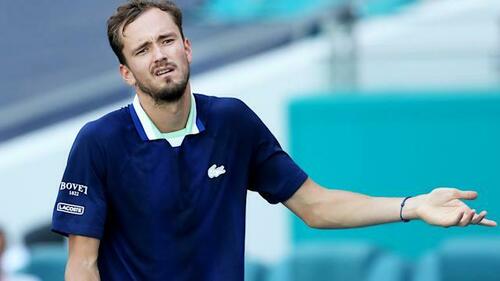 Nigel Huddleston, the British sports minister, told a parliamentary hearing in March that Russians should show their ideological conformity to the current narrative surrounding the war to be able to compete. 
"We need some potential assurance that they are not supporters of Putin and we are considering what requirements we may need to try and get some assurances along those lines," said Huddleston.
However, competing as a neutral athlete wasn't good enough for Huddleston and UK lawmakers, as the outright ban of these players appears to be imminently announced. 
Russophobia is on full display in the UK. Keeping a bunch of Russian tennis pros out of sporting events will have absolutely no impact on Russia's war effort in Ukraine. 
Wimbledon hasn't banned players from specific countries since the end of World War II. 
Tyler Durden
Wed, 04/20/2022 – 11:05
Read More