From <a href="https://www.zerohedge.com/"Zero Hedge
Netflix Monkeyhammered 20% Lower On Catastrophic Earnings, Sees Loss Of 2 Million Subs In Q2
Recent earnings reports from streaming giant Netflix have been a volatile rollerocaster: the stock tumbled just over one year ago when the company reported a huge miss in both EPS and new subs, which at 2.2 million was tied for the worst quarter in the past five years, while also reporting a worse than expected outlook for the current quarter. This reversed five quarters ago when Netflix reported a blowout subscriber beat and projected it would soon be cash flow positive, sending its stock soaring to an all time high – if only briefly before again reversing and then tumbling four quarters ago when Netflix again disappointed when it reported a huge subscriber miss and giving dismal guidance, leading to the second quarter when Netflix slumped again after the company missed estimates and guided lower. This again reversed two quarters ago when Netflix soared after it blew away expectations and guided to a blowout Q4, only to plummet last quarter when the company's stock crashed after NFLX reported a dismal subscriber miss for Q4 and gave horrific guidance for the current quarter.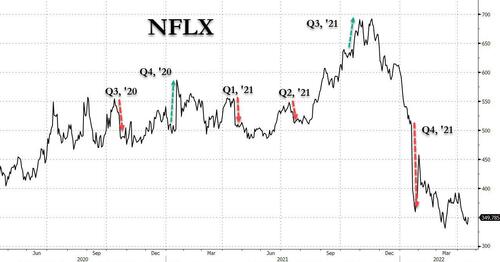 Heading into today's earnings, Netflix gained as much as 4.1% after bouncing off support amid a descending triangle pattern. That said, the long-term uptrend from 2016 is broken, as NFLX shares have fallen 37% over the past 52 weeks and are down 40% since the start of 2022, making it the worst performing FANG name of the past year.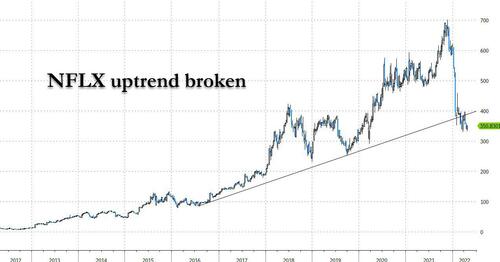 While Wall Street is still largely bullish, the number of holds has increased substantially in the past few months as the stock has been cut in half, and analysts today give the stock 31 buys, 17 holds and 3 sells; the average 12-month price target of $499.47 is 44% above the current price. But don't hold your breath for a short squeeze: shares sold short equaled 0.5% of float, according to Markit data, down from 0.59% a month ago.
Which brings us to today, when after hitting an all time high around $700 in November, the stock has lost half of its value (and prompted Bill Ackman to build a substantial stake in the name), with investors on edge to find out not whether the company would beat its lousy guidance and recover some of its former torrid growth. Said otherwise, how many new subscribers did Netflix add in the fourth quarter.
Alternatively, failing to grow aggressively, perhaps – as Lightshed analyst Rich Greenfield asks – it is now time time for Netflix to announce an ad-supported tier. Recall that Disney+ recently said it was pursuing one, leaving Netflix as one of the streaming world's glaring holdouts. CFO Spence Neumann has said it's not in Netflix's plans, but other industry executives say it's inevitable.
Unfortunately for the bulls, this was not the quarter when NFLX was going to turn the business around because not only did the company report a huge miss to Q1 streaming subs but also guided to an even more catastrophic Q2 subscriber growth, when it sees a 2 million drop in subs vs expectations of a 2.4MM increase. The stock, needless to say, is imploding after hours.
Here is what NFLX reported for Q1:
Revenue $7.87B, missing est. $7.95B
EPS $3.53, beating est. $2.91
Streaming Paid Memberships 221.64M, missing the est. 224.5M
Netflix 1Q Streaming Paid Net Change -200,000, huge miss to the est. +2.5M
Yes, you read that right: NFLX reported a 200K subscriber LOSS in Q1, the first subscriber decline in a decade!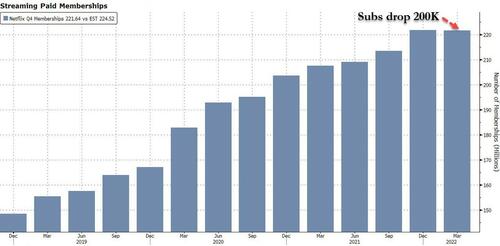 This is a more detailed look at where the subscriber loss was:
Streaming paid net change -200,000 vs. +3.98 million y/y, estimate +2.5 million

US/CANADA streaming paid net change -640,000 vs. +450,000 y/y, estimate +87,452
EMEA streaming paid net change -300,000 vs. +1.81 million y/y, estimate +950,354
LATAM streaming paid net change -350,000 vs. +360,000 y/y, estimate +334,429
APAC streaming paid net change +1.09 million, -20% y/y, estimate +1.2 million
While business predictably slowed in Central and Eastern Europe last month amid Russia's invasion of Ukraine, the press release claims that activity is picking up in markets like Japan, India, and Taiwan. We'll see. Remarkably, despite the recent price hike, NFLX' average revenue per membership in the US rose just 5% to $14.91, with the growth rate slowing sharply from 9% just a quarter ago.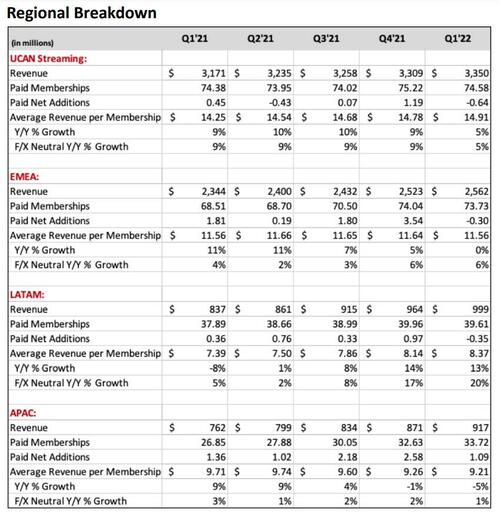 This is how woke CEO, Reed Hasting, explained the huge miss – it was all the sharing households fault. At least it wasn't Putin's fault:
Our revenue growth has slowed considerably as our results and forecast below show. Streaming is winning over linear, as we predicted, and Netflix titles are very popular globally. However, our relatively high household penetration – when including the large number of households sharing accounts – combined with competition, is creating revenue growth headwinds. The big COVID boost to streaming obscured the picture until recently. While we work to reaccelerate our revenue growth – through improvements to our service and more effective monetization of multi-household sharing – we'll be holding our operating margin at around 20%. Key to our success has been our ability to create amazing entertainment from all around the world, present it in highly personalized ways, and win more viewing than our competitors. These are Netflix's core strengths and competitive advantages. Together with our strong profitability, we believe we have the foundation from which we can both significantly improve, and better monetize, our service longer term.
But if Q1 earnings were bad, the company's guidance for Q2 was even worse where virtually everything missed and that was before the company said it now expected to lose 2 million subs!
Sees Q2 streaming paid net change -2.00 million, massively missing the estimate +2.4 million (Bloomberg Consensus)
Sees Q2 revenue $8.05 billion, missing the estimate $8.23 billion
Sees Q2 EPS $3.00, missing the estimate $3.02
Sees streaming paid memberships 219.64 million, missing the estimate 227.7 million
Sees operating margin 21.5%, missing the estimate 21.6%
Visually: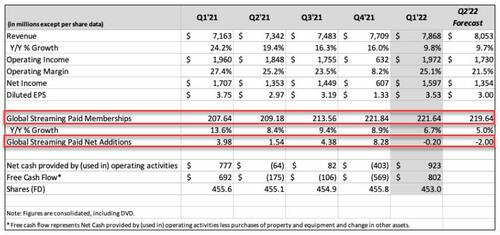 And the company's justification for the first subscriber decline in a decade:
We're not growing revenue as fast as we'd like. COVID clouded the picture by significantly increasing our growth in 2020, leading us to believe that most of our slowing growth in 2021 was due to the COVID pull forward. Now, we believe there are four main inter-related factors at work.

First, it's increasingly clear that the pace of growth into our underlying addressable market (broadband homes) is partly dependent on factors we don't directly control, like the uptake of connected TVs (since the majority of our viewing is on TVs), the adoption of on-demand entertainment, and data costs. We believe these factors will keep improving over time, so that all broadband households will be potential Netflix customers.
Second, in addition to our 222m paying households, we estimate that Netflix is being shared with over 100m additional households, including over 30m in the UCAN region. Account sharing as a percentage of our paying membership hasn't changed much over the years, but, coupled with the first factor, means it's harder to grow membership in many markets – an issue that was obscured by our COVID growth.
Third, competition for viewing with linear TV as well as YouTube, Amazon, and Hulu has been robust for the last 15 years. However, over the last three years, as traditional entertainment companies realized streaming is the future, many new streaming services have also launched. While our US television viewing share, for example, has been steady to up according to Nielsen, we want to grow that share faster. Higher view share is an indicator of higher satisfaction, which supports higher retention and revenue.
Fourth, macro factors, including sluggish economic growth, increasing inflation, geopolitical events such as Russia's invasion of Ukraine, and some continued disruption from COVID are likely having an impact as well.
Translation: the kitchen sink list of excuses. Unfortunately for Reed, investors don't care about excuses, they want results.
And sure enough, the stock has gotten absolutely monkeyhammered after hours, plunging 20% on these catastrophic earnings which sent NFLX stock below $280 to the lowest level since October 2019!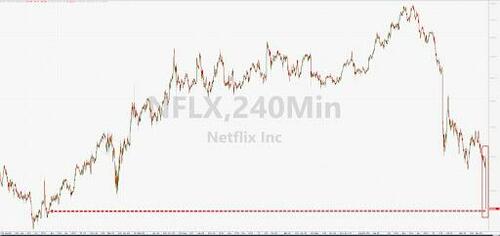 What's next? Nothing pretty…
Before it's all over, NFLX will be shipping out DVDs again

— zerohedge (@zerohedge) April 19, 2022
Tyler Durden
Tue, 04/19/2022 – 16:11
Read More